BMI: A Tool for Confusion and Politics
The U.S. is obese. That is the message from government and so-called health experts. There is no way around it, they say. And the only way to get un-obese is to do what they say. But are we really obese? Or are the alleged experts wrong?
First things, first, what is BMI? BMI is an initialism for "Body Mass Index". Put simply it is a ratio. It is your weight compared to your height. That is all it is. It does not measure your health, it does not measure your fitness, it does not tell you if you are fat or not. If you want more details on it, see the Wikipedia entry.
So, if it does not measure if you are fat or not, why are we judged fat-or-not based on it? Laziness. Maybe Laziness and confusion. Those who push nutritional guidelines or worse, government mandates, based on BMI presumably have good health in mind. However, if health is as important as they say, why skimp on the data? Why use a proxy of a proxy of a proxy for approximate data to base conclusions and recommendations on? Put simply, because it is easy.
The fundamental problem is the notion we can distill healthiness to a single number. Yet, two people with identical BMIs can vary tremendously in their appearance, body fat percentage, and health. Because of this, BMI is a terrible choice to distill it down to.
Jason Seib has an excellent article illustrating this in a visual way you can not argue with. While the article "Attention Scale Addicts, p2" discusses it in the context of trusting the number on the scale it is also a clear description of the problem with BMI. Consider the image in the article:
The woman in the picture, Deb, started at 155 pounds. She ended at the same weight. Yet clearly, if we were to pick a visual example of which one looks healthier we would choose the right side. To see her in action check out some Youtube videos where she lifts and exercises.
More good examples of why BMI is bad can be seen at Julianne's Paleo & Zone Nutrition site. She has en excellent summary of key measurements of Deb Hunter summarized so I won't repeat them here. She also links another article with the following pictures: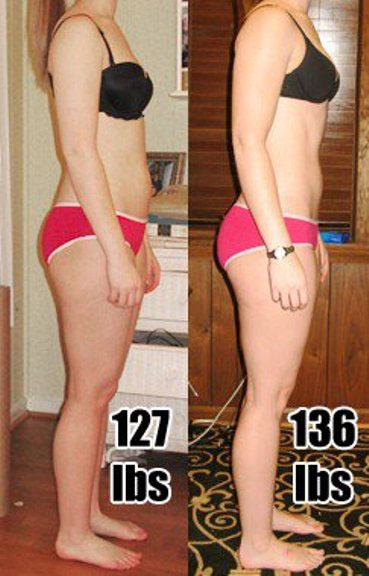 There is a good reason both of these pictures tell us why BMI is bad. Muscle is more dense than fat, so it takes more muscle to get the same size than fat. To put it another way, three pounds of muscle takes up the same space as one pound of fat.
So if BMI isn't an indicator of being fat or obese, should we use it? No. And in my opinion the moment your doctor starts talking about your BMI it is time to find a new one. Instead he should be talking to you about your level of inflammation, your body fat percentage, and what actually ails you.
Before I leave you to ponder why people who assert they are just trying to get us all to be healthier, I'll post a nice extreme example. We all like them, but it also helps to show the above photos and people are not freaks the BMI just doesn't account for, but are regular people.
Now, I'm not saying next photo is of a freak, but his BMI as calculated by his public stats as of the time I write this indicates he is "overweight"  and close to being "obese".
Yes, most of us (self included) could and should be healthier and more fit. We do need work. What we don't need is an emphasis on changing  a meaningless number.